Commitment to Quality, Environment, Occupational Health and Safety
Amphos 21 is a scientific and technical consultancy that develops environmental studies and projects, focusing its activity on the nuclear, mining, water, sustainability and oil&gas markets. The commitment of the Management of Amphos 21 to the environment is daily reflected through our projects, most of which consist on the development of sustainable solutions to major environmental challenges.
Our commitment is based on the following principles:
Achieve full customer satisfaction by fulfilling contract requirements.

Ensure compliance with the applicable legislation and other requirements adopted voluntarily by the company, particularly in the areas of environment, occupational health and safety in accordance with our services and products.

Achieve continual improvement in both process efficiency and environmental performance of the company and in the prevention of occupational risks.

Protecting the environment through the projects and activities developed, always minimizing the associated environmental impacts and preventing pollution.

Train and raise staff awareness so that they can comply with this policy and make them part of the management system as well as providing communication channels with the public and other interested parties.
In order to achieve these objectives, the Management of Amphos 21 leads and promotes the Quality and Environment Integrated Management System in accordance with ISO 9001, ISO 14001, Regulation (EC) 1221/2009 on a Community eco-management and audit scheme (EMAS) standards in Spain and also leads and promotes the Quality , Environment and Occupational Health and Safety in accordance with ISO 9001, ISO 14001 and ISO 45001 standards with an Integrated Management System in Peru and Chile. 
This information is disseminated to all staff, is available to stakeholders and is reviewed and updated to ensure continual suitability to the purposes and context of the company and also to support the strategic direction.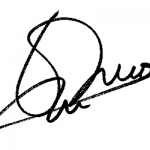 Lara Duro  
General Manager
Abril 2017